Freedive!
CHAPTER
EXCERPTS

FREEDIVE!
by Terry Maas and David Sipperly

Freediving Photography



Freediving offers a multitude of opportunities for capturing magnificent underwater images of shy, elusive subjects. Whether it's with a still camera or a video recorder, silent, graceful freedivers often produce pictures others miss. Many world-class underwater photographers have set aside their scuba gear in search of better pictures. A short list includes such greats as Bill Boyce, Al Giddings, Howard Hall, Chuck and Flip Nicklin, Doug Perrine, Rick Rosenthal, Brian Skerry, James D. Watt and Norbert Wu.

In this chapter, we'll cover the basics of film and video photography with generous contributions from California freediving photographers Harrison A. "Skip" Stubbs, Ph.D., and Phil Colla. Both men, with their natural swimming abilities and photographic experience, evolved from occasional scuba photographers into passionate, top-notch, large-animal image-makers-from amateur to professional in just about five years by freediving.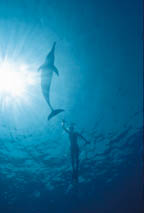 The most colorful images are made on sunny days in shallow water with the subject next to the lens. Wide-angle lenses allow you to get close enough for quality color, yet they don't cut off parts of your subject, like narrower angled lenses do. By brushing water across the lens surface with your hand, you can remove small air bubbles that collect, especially just after entering the water or encountering foamy surface water. Don't touch the lens-you might leave streaks. Amber color-correction filters, by selectively blocking the blues, help restore color to pictures shot through a long water column.............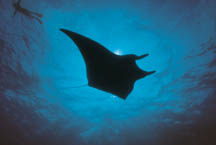 Phil considers the Nikonos-V camera the best choice for freedivers because it's small, light and versatile. Its ease of operation decreases the confusion in exciting situations. You can even use this camera "shooting from the hip." Phil knows of a diver who holds his camera at arms length for dolphin photos and manages to center 80 percent of his images without the viewfinder. The trick is to mark an "X" (diagonally from corner to corner) on the back of the backplat to locate the center of the camera. Simply aim the "X" at your subject and shoot.

A disadvantage of the Nikonos-V is that the camera does not feature through-the-lens viewing, or focusing. It's up to you to estimate distances underwater—something you must master with practice. Remember, if an object appears to be 6 feet (1.8 meters) away it's really 7-1/2 feet (2.3 meters) away—25 percent farther.

While the 35-millimeter amphibious lens that comes with the camera is good for long shots—typically greater than 10 feet (3 meters), the length of the water column washes out most of the color. Using a wider angle lens lets you get much closer to your subject, decreasing the water column and increasing color and contrast. The wide-angle 28-millimeter, 20-millimeter and 15-millimeter lenses work well and are all optically corrected for exclusive underwater use.

The 15-millimeter lens, with 94 degrees of coverage, allows you to shoot within the closest range—1 to 3 feet (.03 to 1 meter) in natural light and 6 inches (15 centimeters) with strobes—but this lens is expensive ($800 to $1,500). This is the lens of choice for portraits of divers and wrecks.
Patience and proximity:
One of the first rules of underwater photography is to "get close" in order to improve the clarity of your subject and add impact to the composition. With regard to timid bluewater animals, marine mammals and compliance with the Marine Mammal Protection and Endangered Species Act, a good policy is to give your subject the chance to come to you. Allow the curiosity of your subject to initiate contact. The approach may never come, but if it does, you will be rewarded with longer, more intimate encounters and much better image opportunities. The alternative rushed approach usually causes the subject to flee, and in the case of protected marine mammals, might violate anti-harassment laws.


We hope it's clear that freediving is an excellent method, sometimes the only method, to approach elusive or shy underwater life. Once you've mastered the basics of freediving, adding the discipline of underwater photography provides rewards that last well eyond the dive...............