Freedive!
CHAPTER
EXCERPTS

FREEDIVE!
by Terry Maas and David Sipperly

Freediving Gear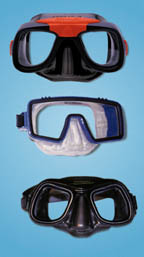 Freediving gear is your passport to the marvelous universe underwater. Facemasks clear your blurred vision to expose an enchanting world more vast than any pool and more colorful than any aquarium. Fins transform your legs into dolphin-like appendages, wetsuits give you a whale-like skin that feels warm and safe and weight belts help you achieve true weightlessness. Fully equipped, you're almost a fish!
As simple as freediving gear is, you still have many choices. In some instances, you can even build your own equipment. When evaluating freediving gear, your primary concerns should always be safety, comfort and fit. What will keep my fins from falling off? How much weight must I use? The following should help prepare you to answer these and many more important questions about your gear.

MASKS
A facemask provides clear vision underwater. The mask best suited for the freediver is small and comfortable and contains a low internal-air volume. The faceplate lens is made of safety or tempered glass to prevent glass shattering into the eyes. A nose-pocket is necessary for mask clearing and should be large enough for you to seal your nose for ear equalization.
The water-glass-air interface, common to all masks, causes two problems: magnification and "mask squeeze." Light rays, traveling from an underwater image to your eyes, bend, or refract, as they pass through the lens and the air behind it. The final image appears 25 percent larger and closer than it actually is-an important consideration when you've got to estimate the size of your catch to comply with fish-and-game laws.
Mask squeeze results from the force applied to the mask from the surrounding water pressure. Unopposed, this force will eventually compress the air under the faceplate and crush the mask painfully to your face as you descend...............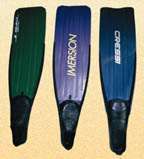 FINS
Fins, along with the mask and snorkel, are the most essential freediving gear. In the late 1930s, the first North American freedivers explored the waters off La Jolla, California, with only their homemade facemasks. Several years later they discovered fins.
Jack Prodonovich still expresses awe over his first swim with fins. "It was amazing," he recalls. " I couldn't believe my hair flowing backward in my wake. The whole unexplored kelp forest below 20 feet (6 meters) was now opened for us!"

Fins increase the freediver's efficiency and mobility. Freedivers agree that their fins should be about 39 inches (90 to 110 centimeters) long. A fin's blade produces a wave of displaced water that propels you forward. The larger the blade, the larger the wave. Only the water that is deflected straight behind the fin, along its long axis, provides push; water spilling over the sides represents wasted energy. Various manufactures use ribs and water-deflection devices to maximize the efficiency of their fins.
our choice depends on what kind of diving you'll be doing. Soft, flexible fins are the best for all-around freediving. Their flexible fin blades produce, after the initial thrust, a gentle recoil, making them both more efficient and fatiguing than stiffer blades. Very stiff fins are reserved for deep-diving attempts. Stiff-blade fins produce greater power but also require more energy to operate. Surface divers who use them tire quickly and experience cramping in their calves and foot arches. Moreover, very stiff fins can aggravate an existing lower-back problem...................
SNORKELS

The snorkel, a "J"-shaped tube that conducts air to your mouth when you're face down in the water, conserves your energy because you needn't raise your head for a breath. A snorkel also lets you enjoy an uninterrupted view of the activities below.

Your best snorkel choice is a simple design—a hollow tube connected to the mouthpiece. Because there are no valves to break, a simple snorkel is good for remote locations. With practice, you'll become adept at sensing water entering the tube. When this happens, quickly stop inhaling and blow out with a short burst of air. This clears the snorkel and only rarely will water enter your mouth.

Snorkels with two valves are easier to use, especially by beginners. Despite the added bulk and increased maintenance requirements, some expert freedivers also prefer them. The purge valve, located at the bottom of the J, jettisons accumulated water out of the bottom when you blow. A small rubber diaphragm makes this valve open only one way, preventing water intrusion. Another valve, located near the top of the snorkel, is supposed to divert splashed water from entering the tube.

The most important consideration is mouthpiece fit and comfort. Check for irritations. Does the flange place pressure on your gums? A few hours of swimming and diving with an ill-fitting flange can ulcerate the gums and possibly cause them to permanently recede from the necks of your teeth. Soft mouthpieces are generally the most comfortable, but be aware that extra-soft mouthpieces flex and distort during fast swimming..............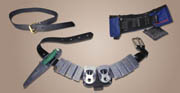 WEIGHT BELTS
Weight belts are used to offset your body's natural tendency to float and the buoyancy of your wetsuit. A belt weighing 3 pounds (1.3 kilograms) is sufficient to neutralize the natural buoyancy of the average freediver not wearing a wetsuit. A 25-pound (11-kilogram) belt might not be enough for the diver wearing a full, cold-water wetsuit.

The two most important considerations regarding your weight belt are the quick-release mechanism and your attitude toward ditching the belt. The release mechanism needs to be durable and easily operable by either gloved hand. The best release mechanism will kill you if you don't use it early enough. When in doubt about reaching the surface, ditch your weight belt! Consider bringing along a cheap replacement belt and an aqua lung to help retrieve a lost belt.

Weight belts are available in several styles, olors and shapes. For safety, one might argue that the best belt is the least expensive because you would ditch it more readily in an emergency. Whatever style you choose, make sure you don't add too much weight—the belt must let you float upward in water 15-feet (4.5-meters) deep or less.............
DIVE BOARDS AND KAYAKS

Dive boards and wet-bottomed kayaks are gaining popularity among today's divers. The diving-instruction organization PADI has even sanctioned a kayak-dive class. Dive boards and kayaks provide you with transportation, a place to store your equipment and game, and a good support for your divers-down flag. These inexpensive alternatives to boats offer the pleasure of paddling and the opportunity to condition your upper body.

Dive boards expand the shore-diver's horizons by at least 20 times. The San Diego Bottom Scratchers recognized their utility in the late 1930s. Jack Prodonovich felt that there had to be a better alternative to his inner-tube float. This was well before the introduction of the wetsuit, and Jack, who was thin and fit, got cold just kicking his inner tube to his dive site beyond the surf...........
Compared to the gear required for many other sports, freediving equipment is relatively inexpensive—surely an appealing aspect of this sport. However, because of the potential dangers associated with freediving, you must make a special effort to choose gear that is both functional and safe.