Freedive!
CHAPTER
EXCERPTS

FREEDIVE!
by Terry Maas and David Sipperly

Deep Diving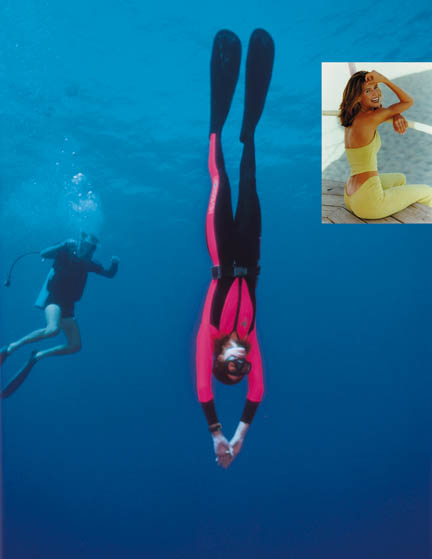 Mehgan Heaney-Grier dives to her first 155-foot record.

We want to be clear: competitive deep freediving is a dangerous sport, and we don't condone it. Divers, caught up in the frenzy to see who can dive the deepest, may end up taking irrational risks. Many have died. Still, the sport has produced many colorful figures, including a woman who is setting records at just 19 years old, a man who belches air from his stomach into his lungs as well as two epic rivalries.In spite of its danger-or maybe because of it-there is a lot to be learned from those who pursue this sport.

Individuals, supported by a team of trainers and safety divers, compete in three classes to see who's the deepest breath-hold diver in each class. Dives may take three minutes or more in the record attempt, and some reach depths in excess of 400 feet (122 meters). Only a handful of devoted divers around the world participate. Yet given the sport's growing media attention and the information we're obtaining about man's ultimate limits underwater, we feel compelled to address it. This chapter is intended to be a source of information only and not a substitute for proper training and experience.

Freediving for depth has been practiced for years in Europe. It gained popularity in the United States with the release of the 1988 film The Big Blue, which loosely depicted the life of freediving guru Jacques Mayol and his rivalry with Enzo Maiorca.

The first American deep freediver was United States Navy diver Robert Croft, who held the 1967 world record of 217 feet (66 meters). The current record is 439 feet (134 meters). More recently, there has been a resurgence of popularity in this esoteric sport due to the new rivalry of Francisco "Pipin" Ferreras and Umberto Pellizzari and the multitude of television events covering Pipin's record dives off the coasts of Mexico and Florida.
There are three categories of deep freediving: constant-weight, variable-weight and no-limits. The constant-weight category is under the strict auspices of CMAS, the World Sub-Aquatics Activities Confederation. CMAS, recognized by the International Olympic Committee, is the oldest international federation ratifying diving activities. It started ratifying depth records in 1949 when Raimondo Bucher set the first record at 98 feet (30 meters).............
All are stout practitioners of posture and form. They never look down because the tilt of the head, required to see the bottom, causes massive drag. Instead, they look behind while keeping their head and body perfectly inverted. To prevent the disruption of water flow over their bodies, they kick with powerful, narrow strokes, either with their arms tucked along the sides of their bodies or stretched out like a body surfer to prevent the <d>disruption of water flow over their bodies. No-limits divers descend feet-first to facilitate ear equalization and to prevent disorientation...........
Pipin's current no-limits record stands at 439 feet (134 meters); the feat took place Nov. 26, 1996, in Cabo San Lucas, Mexico. That dive lasted 2 minutes and 22 seconds..........

Scientists, physicians and most experts thought that the 100-meter (328-foot) barrier was impossible to surpass. Mayol proved them wrong. Who would ever imagine that the 400-foot (122-meter) mark would be surpassed by two individuals? Will the 500-feet (152-meter) barrier ever be broken? Probably. Pipin says that he will retire when he reaches 500 feet (unless Pellizarri or another diver breaks that record first).......................