World Records for Striped Marlin
David Mullins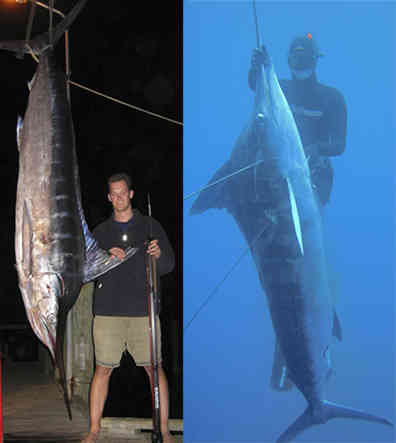 World-record Striped Marlin for men—156.6 kilograms (344.9-pounds) by David Mullins
On the 7th of April, myself and 5 other spearos departed from Mangonui onboard the 54ft Cascade on a 5 day trip to the Three Kings Islands, organized and guided by the Wild Blue spearfishing club. Cascade was skippered by Charlie Care, and the deckhand was Mike Tepou. After spending the first day diving the Cavalli Islands we steamed overnight to the Three Kings, 64km Northwest of Cape Reinga, arriving at about 4 in the morning. Our intentions on this trip were to target marlin almost exclusively, either on the King bank or more remote Middlesex bank, by trolling hookless lures to tease them to the surface. We had been forced by the weather to spend the previous day hugging the East coast, and those who were not still violently seasick from the rough trip were eager to head out to the clear blue water and big gamefish of the King Bank. First, however; it was decided to spend a more sedate morning diving around the boat in Southeast Bay, one of the few places at the Kings that offered shelter from the strong Westerly winds.
I entered the water at about 9am. It was cold and clear in the bay, with a visibility of 20-25 meters. The flat bottom sloped gradually from 60 feet down, scattered with boulders and patches of weed that held tarakihi, porae, pink maomao and at least one very tame black spotted groper. A trio of kingfish was patrolling the bay, first circling tightly to check me out and then keeping their distance, passing back and forth as I headed out to a point at the Southern end of the bay. Although the largest was a decent fish, somewhere between 20 and 25 kilos, we had not come to the Kings to shoot anything other than trophy fish of 35 kilos and over.
Although I had brought a big Bluewater gun complete with slip-tip, breakaway rig and an intimidating amount of recoil, for this dive I took only a 120 cm euro gun, custom made by Wild Blue with a 6.5 mm shaft, 21 mm Picasso rubbers, a double wrap of 400lb mono and a carbon fibre barrel. My bungee and Rob Allen floats remained on Cascade with the big gun; to avoid the drag of multiple floats and the hassle of a sinking bungee I opted for my standard setup which consisted of 27m of hard line and an 11 litre plastic Ronstat float. On this dive I only expected to shoot golden snapper and tarakihi, or perhaps a big kingfish if one showed up. Aside from bent spears, I had never found this rig to be inadequate for even large kingfish.
As I neared the point it became evident that some current was running. Although the bottom became more barren, around the rocks that jutted out into the sea schools of baitfish and pink maomao indicated there might be some action on the up-current side of the point. In the distance I could see the rock wall dropping vertically to the bottom of 80 feet. A school of large koheru swam past below me, disordered and moving fast. Expecting to see a school of kingfish in pursuit I made a dive, waiting motionless in mid-water. I waited without seeing anything till the last of the koheru had passed and then returned to the surface. As I lay breathing for another dive, I looked down to see a bill waving from side to side about 10 feet below me. In a couple of seconds the rest of the big striped marlin came into view as it rose from behind me to check me out. Although brightly lit up, the marlin was swimming slowly and as it passed underneath me it began to sink back down. I made a shallow dive over the top of it, moving very slowly so as not to spook the giant fish which was already almost out of range. Picking a spot just behind the gill plates I took a shot, hoping to hit the spine or the back of the brain. However, the size of the fish must have led me to underestimate the distance as my shaft connected low in the shoulder. The marlin continued to swim off slowly, then came to a halt and rose vertically to the surface where it stayed, head out of the water and shaking slightly for several seconds. Thinking that I had stoned it I swam forwards, then backed off again as it righted itself and moved off towards open water.
*********************************************
Previous World Record:
The story of Chris Brown's striped marlin—134.40 kilograms (296.3 pounds)—A New Zealand first and a world record claim. Story from Australian FreeDiving and Spearfishing News, Issue No. 13, August 1997.
It has been a very successful season for veteran spearo Chris Browne from New Zealand. 53 year old Chris had only just returned from the Australian Bluewater, Freediving Classic where he won the Masters section, when he speared New Zealand's first striped marlin. Following is Chris' description of the catch that was sent to the International Bluewater Spearfishing Records Committee, based in the USA.
Saturday, 19th April, 1997. Far North Spearfishing Championships briefing venue - Tropicana Motor Camp, Whangarei. Diving Zone: Hen and Chicken Islands, off the coast of Whangarei.
Tara Rocks on the Hen and Chicken Islands. The sea was a one and a half to two meter nor'westerly swell, with large areas of whitecaps. My son, Steven Browne, was my buddy for the day. I was driving my own Lazercraft 5.6 meters aluminum boat, powered by a 135hp Mariner outboard.
This particular competition was being run under New Zealand Underwater rules, and was therefore a swim competition. The boats all arrived at a designated area and were anchored. No boats were to be used in the competition, except for those of the safety officials. In these 6 hour swim competitions, the divers swim from the start/finish area and must return to this area with their catch. Boats are not allowed to collect the catch.
The competition started at 9 am. A stiff current was running as we headed for the southern side of Tara Rocks. In these competitions, we are allowed one gun each, mask, snorkel, weightbelt, dive suit, float and line. The gun must only be powered by muscle power and no scuba gear is allowed. You and your buddy line is attached to the main down line float. Only one diver of the pair is allowed to dive at a time. Steve had just come up after shooting a kahawhai and I was about to dive down to shoot a porae, which I had seen, when I spotted the marlin. I dived down to have a look and at that moment, he turned and I fired.
The shaft went through 22 mm below the lateral line on the star board side and came out about 100 mm behind the port pectoral fin. I came to surface to tell my son I had shot a marlin and I think I got the world 'Steve!' out and I was off. I played the fish for about one and a half hours, at speeds I estimate to be about 8 to 10 knots.
I was a little concerned at times because out from the Hen and Chicken Islands is virtually the ocean. I found, because of the angle of the shaft in the fish, I could actually turn the fish in a very wide circle. I estimate that the distance over which I was towed was approximately 4 kms. Eventually the fish tired and went to the bottom at about 18 meters. I dived down and grabbed his bill and placed a rock in his mouth, and he died within about a minute and a half. My dive knife had too small a blade to use.
Eventually I managed to aquaplane him to the surface, where he became negatively buoyant. I then swam about 500 meters to rest on a rock until the safety patrol boat spotted me. I loaded the fish into the boat. We then returned to the official start/finish area. We waited until the end of the competition at 3 p.m. before heading back into the boat ramp. I initially took the marlin to our competition weigh station, where we hoisted it to get photographs. We then headed out to the Whangarei Deep Sea Anglers Club, based at Tutukaka. This club is an internationally recognized weigh station for having fish accurately weighed and recorded. My marlin weighed in at 134.4 kg (295.68 pounds). I was issued with an official weight certificate by the weighmaster.
This is the first time a marlin has been speared in New Zealand waters. Apart from the fact that I think my arms may be about two feet longer, I suffered no ill effects from my efforts. Interestingly enough, the guys at the Whangarei Deep Sea Anglers Club said we would have lost about 20 kg in the playing and landing of the fish.
*********************************************
World-record Striped Marlin for Women—57.1 kilograms (126-pounds) by Colleen Gallagher. Taken July 15, 2010 at Cerralvo Island, Baja California, Mexico.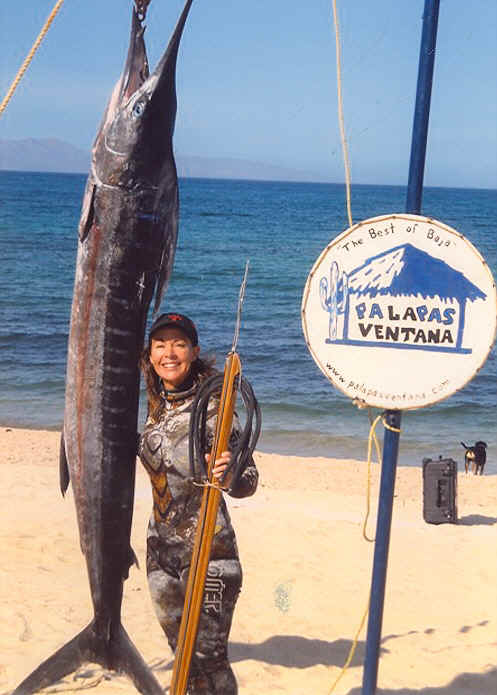 The date is July 15,2010. I was diving with my two friends, Matt Davidson of Blue Tuna Spearfishing and Max Mirinov, a fellow spearfisherman and photographer. We were on the dive boat, Pez Sapo with our Captain Nono. We were diving at Ceralvo Island, Baja Mexico. We were with Palapas Ventana Dive resort in La Ventana Mexico. The time was shortly after noon, the weather was sunny and calm, 100 degrees temp outside and the water temp was a warm 79 degrees.
Matt and Max and I had made repetitive dives for Wahoo, but even with multiple sightings, they stayed just out of reach. We were all using Andre 144, 3 band spearguns, 57". My Andre Euro144 was connected to a breakaway to a 75 foot Riffe float line that was clipped to a Rob Allen 11 litre hard float. We were all using flashers, tossing them out in front of ourselves by about 10 ft and allowing them to slowly drift down to 20 ft, flickering off the sunlight as they descended, then we would dive down to retrieve them.
On this particular dive, this was my last day of diving and the guys were frustrated so they got back in the boat. I made another dive and I was only 20 ft from the boat. Right then, as I was just maybe 10 feet below the surface,just at 15 feet in came the largest pelagic I had ever seen, a Striped Marlin. My Andre 144 was comfortably poised in my arm to shoot, and I was amazed at how close it was, no more than 10-15 feet from the tip of my gun. I placed a perfect downward shot right at the spine just behind the gill plate. The slip tip buried deep into the meat of the spine, never toggled out of the body and the Marlin initially was stunned. It was long enough time for Matt and Max who were looking over the edge of the boat at all the commotion, to have the clear conscious to recognize the enormity of it all and toss me a second Riffe float with a bungee and I clipped it onto the back of my Rob Allen float, then Max passed me an unloaded Andre 144 mid handle 3 band speargun with 50 ft float line that I clipped to the Riffe float.
These two men kept the boat right next to me and kept me focused on what I had to do. This was my Marlin, and they knew I had to do this on my own. The Marlin rallied and pulled the first buoy down as it dragged me forward in the water. The Marlin never turned or jumped or made any attempt at me, just propelled itself forward till it finally started to tire. I moved from the back of the Riffe float, pulled myself and my 2nd speargun that was clipped to the Riffe float forward to the first buoy, the Rob Allen which was now back on the surface. I clipped it to the Rob Allen, and now started to pull in this enormous fish.
I closed the gap between myself and the Marlin, and clipping the float line off, bringing it in little by little. When it was just 20 ft below me, I looked down at this enormous animal and yelled to Matt, " I can't do this" He yelled back, "Yes you can and go do it!"
I loaded the Andre 144 mid handle, took a breath and dove down next to the Marlin and placed a second shot right at the gills, the blood started to pour out and as I ascended to the surface, it now had two shafts in it and it was twitching. I yelled to Matt to give me a third gun, and he passed me an unloaded 144 Euro Andre 3 band gun with a 50 ft float line, that I quickly loaded and then I took a breathe, made a short descent to a little over 20 ft down into the ocean,and placed the third shot in the head of the Marlin. It was over, it was motionless.
I then pulled the Marlin up to the surface, all by myself, getting tangled and untangled in the three float lines, two buoys and presented the 126lb marlin to the Boat Captain with three shafts pierced in its body.
It was an incredible experience for me.
I brought the Marlin by boat onto the beach at Palapas Ventana and it weighed in on a certified IUSA scale at 126 lbs and 109" in length.