Baja Black Marlin
Copyright © 1999 Terry Maas, BlueWater Freedivers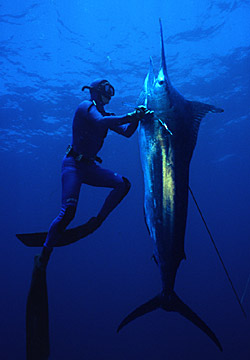 Looking back, I could have predicted a good trip after I jumped over the side of our panga fully clothed to catch my rapidly sinking fin. Having done this trick before, I knew I had to get back onto to boat as soon as possible before my wallet contents were ruined.
My dive buddy Ron Mullins and I had planned a return to the famous El Bajo of La Paz after the International Blue Water Spearfishing Records Committee (IBSRC) blue water meet last June. We knew marlin must pass by the underwater mountain swarming with baitfish. We reasoned that the fish with the big swords would ebb and flow into the Gulf of California in search of a meal. How could they resist their favorite foods dorado and tuna? On the plane down, we even joked about who would take the pictures of the other with his fish.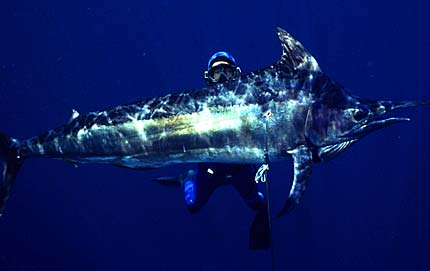 Our guide was Toto from the Cortez Club of La Paz. Toto is an excellent freediver having recovered a blackout victim from the ocean floor 90-feet below the year before. He also scored high in the blue water meet by landing the biggest fish of the first contest day. With the wind calm and with Toto at the helm of our skiff Bite Me, we felt we had a chance for the elusive and feared marlin. It's difficult to describe the anticipation and thrill as we skimmed across the calm, early-dawn waters of Baja where azure seas meet pristine, arid islands—a vision from pre-history.
We squeezed out the contents of my wallet then rinsed our wetsuits in the bathtub-warm waters. A passing hurricane had pushed up hot, plankton-filled water past the El Bajo seamount, nearly 20 miles off shore. After judging the direction of the stiff current, we up-anchored and motored up hill. Ron and I entered the water with that familiar exhilaration tinged with anxiety to begin the drill that we would repeat the next 2 days, 6 hours a day—two minutes on top, two minutes hunting. When one dove, the other recovered on the surface, just at the edge of visibility.
Bluewater hunting is about persistence, stamina and knowing that the next dive will reveal a record fish. In reality, most days we return home having never taken a shot. This day Ron spotted a big marlin—about 500 pounds—at 40 feet. "It was brightly lit and spooky," he said. "As soon as I turned in its direction, it sank from view." He advised me to approach the next fish in a less-threatening fashion.

It's important to dive with a buddy whom you can trust; someone who will help fend off sharks, offer verbal support and pass a second, unloaded gun if you need to make a kill shot to subdue your possible record. Once the team establishes a rhythm, it appears as a slow-motion water ballet—one up, one down.
Each time we drifted past the pinnacle into the vacant water, we would unload and motor back to the head of the current, well up-stream of the rocks to reload again. Our chests were starting to cave from loading the 6, 110-pound bands time after time.
Even though I'm vigilant and swivel my head in all directions, I'm still amazed how a huge gamefish can just appear and occupy your entire field-of-view where just seconds before there was nothing but blue water and bait. My black marlin appeared from over my left shoulder as my head swiveled in that direction. When I focus on a fish, I'm never quite sure how my gun seems to materialize in my hand, pointed in the right direction with my finger on the trigger.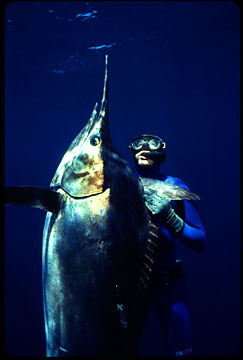 The marlin kept its distance—about 20 feet away—as my arm extended slowly. Still, it was too quick for the wary fish, which twitched ahead a few feet. Thinking it was going to bolt, I froze. Instead of picking up speed it abruptly turned back in my direction to tighten its circle around me. Now, just 15 feet away, I almost squeezed the trigger as the middle of the fish came into my sights. But I had planned this shot for years because I did not want a wounded fish to return and gore me. Another split second helped me to perfect my aim.
I pulled the trigger and the long marlin suddenly stopped swimming, my spear protruding from the classic kill-shot zone. A minute later Ron started taking pictures. Black marlin derive their name for the deep black color that they acquire after lying on the boat deck for a while. Our fish, however, was alive with a variety of colors, most notably an iridescent blue on its shoulder.
A half-hour later, we resumed the hunt. With my day's quota filled, I followed a pumped up Ron for the next 3 hours.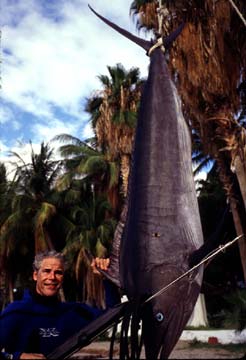 Back at the Cortez Club, our enthusiastic hosts Andrea Tomba and his partner James identified our fish as a black marlin. It weighed 188 pounds, one of only a handful of black marlin taken in the Pacific. Last year an Australian Les Jones landed a 391-pound black off Tweed Heads New South Whales. But the tough South African divers take the largest black marlin. The current record holder is Jimmy Uys who shot his 533-pound fish in 1988. Recently another of Jimmy's friends diving with him shot an even a bigger fish—a pending IBSRC record. For a look at all large bluewater gamefish records for freediving, check out our web site at: http://freedive.net/ibsrc